Emergencies happen when you least expect them, which is why PalAmerican has developed revolutionary Security Officer training programs. However, no one imagines having to apply the training they just learned on their own team member.
PalAmerican Officer Helps Save Security Trainer's Life
In mid-December 2019, Security Manager Bob Coyne reported for duty in Sebastian, Florida. His first order of business was to begin the onboarding process for Healthcare Security Officer Amy DeShay, who completed her Security Officer training only a few days prior.
In the security office, Bob began experiencing medical distress, which would later be determined as cardiac arrest. Amy immediately sprang into action to assist Bob. She also notified the security team and clinical staff. Within minutes, Bob was transferred from the security office to the Emergency Department, where the clinical team worked diligently to successfully avoid a Code Blue.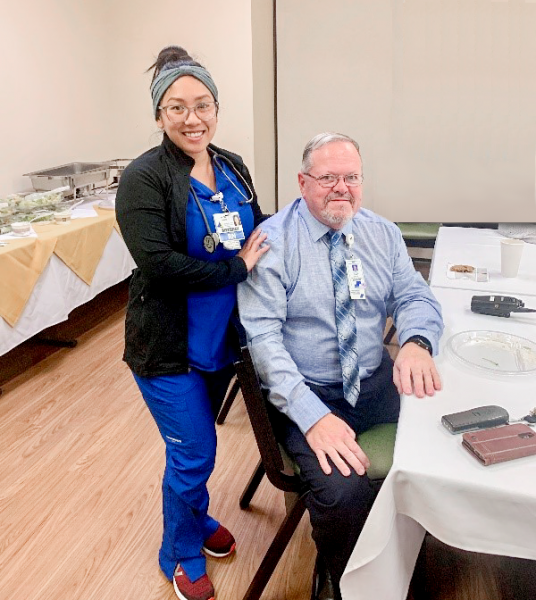 Security Manager Bob Coynes with Nurse Ivy, who provided care and performed CPR
Immediately following the medical emergency, Shift Lead Samantha Edwards stepped in to keep the security program running smoothly at the medical center. Samantha immediately assumed all the Site Manager security program responsibilities and day-to-day operations, and attending daily director huddles.
The PalAmerican management team truly appreciates the exceptional devotion to duty that Samantha presented while Bob was recovering. Samantha's fellow team members also had nothing but positive words to say about her ability to resolve operational problems and actively manage the security program for the facility.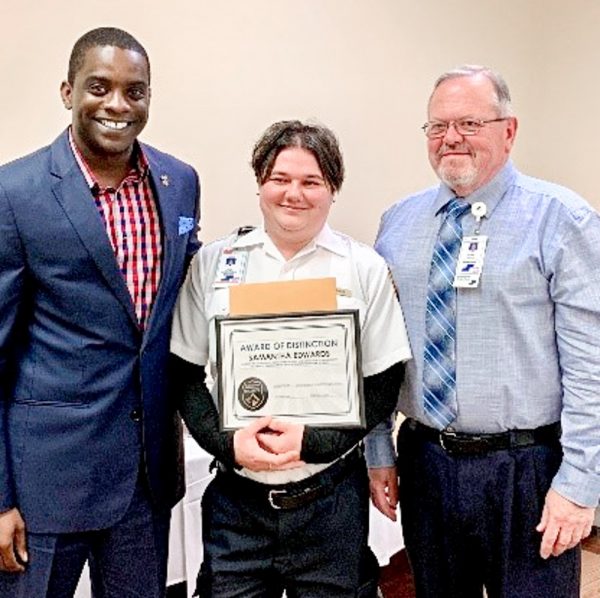 Project Manager Johnny Boykins, Shift Lead Samantha Edwards and Security Manager Bob Coyne
Amy's first day on the job will be one she will never forget. Her quick actions, along with the immediate response from the medical team, saved Bob's life. Both Amy and Samantha's devotion to duty perfectly represents the PalAmerican Difference.
Industry-Leading Security Officer Training
As the leading security training organization, PalAmerican has developed a number of revolutionary training programs for both our staff and clients. Notably, the Pre-Assignment Training that all Security Officers receive, is a specialized training opportunity based solely on their site assignment. This training helps to ensure the success of each of our Officers, just like that of Amy DeShay. The additional 40 to 120 hours of specialized healthcare security training Amy received, equips her with the tools to be an outstanding security officer in her field.
PalAmerican has earned a national reputation in the security industry as the leading training organization. Learn more about our advanced training requirements and opportunities:
If you are interested in gaining exceptional training in the security industry, apply to PalAmerican today.