Before making a career change, it is important to be aware of all the relevant information you need to make your decision.

Most often, the first question we have revolves around salary expectations. If you're considering a career as a security guard, you should know that although there are many entry-level jobs that offer a starting pay close to minimum wage, your earning potential depends on your experience, your location, and your employer.
HOW MUCH DO SECURITY GUARDS MAKE AN HOUR
As with most jobs, having more job experience in security will likely mean your wages will be on the higher end.
According to the United States Bureau of Labor Statistics (updated in May 2019), the hourly wage for security guards ranges from $10.17 to $24.19. The median hourly wage in the United States is $14.27. The annual wage for security guards ranges from $21,150 to $50,310. The median annual wage in the United States is $29,680.
Besides experience, your location makes a significant difference due to labor agreements, working conditions, and workforce availability. As you can see in the table below, the District of Columbia's median hourly wage is substantially higher at $21.16, and on the high end, it goes all the way up to $30.70 per hour.
| | | | | | |
| --- | --- | --- | --- | --- | --- |
| State | Employment | Employment Per 1000 jobs | Location quotient | Hourly mean wage | Annual mean wage |
| California | 162,850 | 9.37 | 1.22 | $16.17 | $33,640 |
| New York | 118,210 | 12.41 | 1.62 | $18.03 | $37,510 |
| Texas | 90,820 | 7.31 | 0.95 | $14.78 | $30,740 |
| Florida | 86,190 | 9.80 | 1.28 | $14.01 | $29,150 |
| Illinois | 46,120 | 7.65 | 1.00 | $16.25 | $33,800 |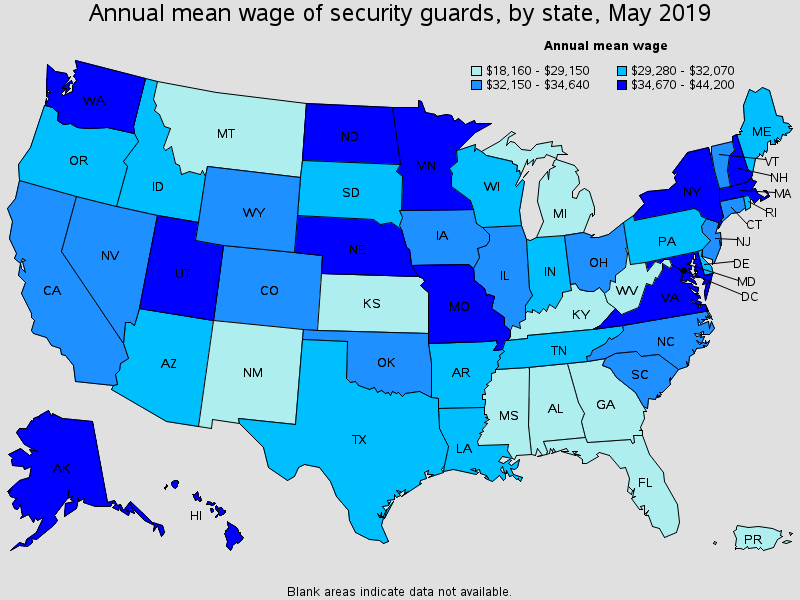 (Image: United States Bureau of Labor Statistics)
EMPLOYER-DEPENDENT COMPENSATION
Compensation packages for security guards vary depending on the employer and could include other factors. For example, this could be benefits, promotional opportunities, or paid training.
It is also worth noting that some security companies prioritize their employees' career growth by promoting from within.
IS A SECURITY GUARD CAREER RIGHT FOR YOU?
There are other questions to take into account besides wages. To help you make an informed decision, we have answered common questions people have when contemplating a career in security.
Q: Is there a high demand for security guards?
According to the United States Bureau of Statistics, between 2018-2028, new job openings are expected to total 40,200, a 3.5 % increase. As long as there is a need for companies and individuals to protect their assets, people and property, there will be a demand for security guards.
Q: How many hours a week do security guards work?


Security guards typically have a choice between full-time, part-time, casual or shift work. If 9-5 doesn't suit your lifestyle or needs, security jobs offer schedules around the clock. Whether you prefer working a night shift, early morning, or an afternoon shift, there are plenty of employment opportunities.
Q: Is being a security guard boring?


Being a security guard is often more interesting than your average job.

While you could choose work that involves being stationary at quiet sites, there are also positions that require being on patrol at high-traffic locations. Depending on your environment and situation, some days call for emergency response or fire safety, for example.

Additionally, you can often choose the industry that you'd like to work in. A few common industries that use security services include healthcare, retail, parking, banks and schools.
Q: Are there opportunities for advancement?


If you're hoping to eventually become a supervisor, manager or executive in a security company, starting as a security guard is often the best way to advance. Additionally, being a security guard can help you effectively prepare for a career in law enforcement.
WHAT TOP SECURITY GUARD EMPLOYERS HAVE TO OFFER
At PalAmerican, we offer full-time employees extended health and dental benefits along with many corporate perks and partnerships. And when it comes to pay, PalAmerican has some of the most competitive wages in the country.
If you are thinking about a career change, we invite you to consider applying at PalAmerican Security