As Hurricane Harvey barreled toward Houston in late August, St. Joseph Medical Center's staff and security made sure they were prepared for the category 5 storm. The team started by sealing the pressurized metal floodgates across the hospital's driveway and doors. Having the gates closed left a few entrances open in order to protect the hospital from water damage and in doing so, meant St. Joseph's was officially operating under Code Brown.
Code Brown status is designated for natural disasters and terrorist attacks, and meant that staff and security were unable to leave until further notice. Site Security Lead, Mike Alford, and his team of Security Officers ensured order was in place while keeping staff and patients safe from any type of threat.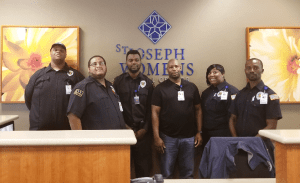 Ten available members of St. Joseph's security team arrived at the main hospital on Friday the 25th. The team was split in half and had shifts of 12 hours on and 12 hours off while three additional Officers worked 15 miles from the main hospital, St. Joseph the Heights. These Officers secured the hospital extension and had similar responsibilities. The hospital's "desperation visits" started arriving late Saturday as heavy rains began to fall. Mike and his team were responsible for covering security in the make-shift triage areas in the hospital's warehouse, keeping the flow of patients steady while assisting hospital staff as well as the local police department.
(Pictured: a few of the available PalAmerican Security Officers during Hurricane Harvey)
The Security Officers worked tirelessly covering three triage areas, two entry control points and conducting roving patrols. Many of the Officers worked past their shifts to ensure the needs of the hospital staff were covered, and the rest of the team was also available for additional tasking.
The team not only covered security for the entire hospital, but they were also responsible for transporting discharged patients to a nearby shelter, George R. Brown, or to their homes if accessible.
Flooding along Houston's bayous turned the city into an island. Through the difficult time, these Officers still managed to come back into the hospital and put their best foot forward, showing exceptional dedication to their jobs and to helping those in need. Many Security Officers lost their vehicles in the flooding but still found alternate means of transportation in order to support the hospital team.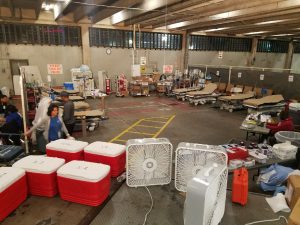 One Security Officer, Kelby Gardner, drove home to check on his family after working multiple 12-hour shifts. While driving home, Kelby's vehicle veered off the road and into a ditch due to the extremely poor driving conditions, and quickly submerged into the water. Fortunately, Kelby made it out of his vehicle through an open window. He was able to check in on his family and still made his way back to the hospital to start another shift.
These Security Officers prioritized the care of patients and worked first and foremost to ensure the hospital was a safe space. There is no greater example of PalAmerican's dedication to providing patient-centric services than the unwavering perseverance of the St. Joseph's security team.
Having gone through a tense five days, Mike shared,
Being a 20-year military guy allowed me to manage the stressful five days as best as I possibly could. When there was downtime, I let the team play cards and dominoes to help them relax. My wife, a lieutenant at the police department, brought food for everyone on the team; everyone worked together as a complete unit. I stayed up until 4 am making sure everyone was okay, and set up meetings at 10 am to make sure that both shifts were well taken care of.
The security team's preparedness was severely tested over five days, as the storm sent hundreds of patients surging through St. Joseph's doors. What really helped the whole team though, was strong planning, resilience and an unwavering commitment to support the safe care of patients.
We really prepared for the situation. We've experienced some minor flooding before, but this was a lot more than expected, 41 inches. With St. Joseph's having 2.2 million square feet, that's over nine blocks. We all stayed in the hospital having three shifts and worked together as a strong unit. These Officers did a tremendous job regardless of their personal situations. They worked wet, hungry and tired all day and all night. These are some of the greatest men and women that I have ever served with.
The actions of Mike and his team make all of us at PalAmerican Security very proud!