This week at PalAmerican, via the International Association for Healthcare Security and Safety (IAHSS), we are paying special appreciation to our dedicated Security Officers who help maintain an important level of security and safety among our hospitals and healthcare facilities.
This year's theme, "Heroes in Healthcare," is especially fitting due to the many unforeseen challenges our Officers faced as a result of the COVID-19 pandemic. We thank our Officers for their diligent work ethic, empathy, and commitment to making our world a safer and friendlier place now, and always.
While we continue to look forward during the pandemic, we would like to highlight a few stories that speak to the quality and importance of our Healthcare Security Officers.
Colorado Officers go Above and Beyond Amid COVID-19 Outbreak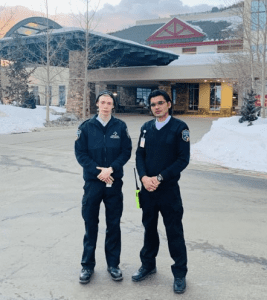 Clinton Roberts and Omaid Wali were  working at St. Francis and Penrose Hospitals in Colorado Springs, CO when they got word that St. Anthony's would need assistance. Both officers immediately volunteered to provide their support. Relocating 100 miles away from their home sites, Roberts and Wali went to Frisco, CO to provide protection services and keep the media at bay during the initial outbreak of COVID-19.
"This was a challenge we accepted knowing the risks involved and we will continue to support our PalAmerican Family and our clients." – Security Officer Clinton Roberts
"I was excited to do this assignment and appreciate the opportunities as I am meeting new people and learning new things." – Security Officer Omaid Wali
Read more about their heroic efforts here.
Exemplary Performance at St. Anne's Hospital
Security Officer Joao Matos was assigned to the Saint Anne's Hospital Behavior Health Unit when he noticed a patient acting suspiciously in his room. Officer Matos called to his supervisor Sgt. Mary Bardsley to report his observations.
Sgt. Bardsley and Officer Matos performed a cursory visual search of the patient's room and noticed a ball of aluminum foil on the patient's food tray. Sgt. Bardsley proceeded to open the foil and found rubber examination gloves with 39 plastic bindles each containing a white powdery substance that appeared to be opioid in nature. The substance was removed from the patient's room and a thorough search was performed. No other contraband items were found in the search.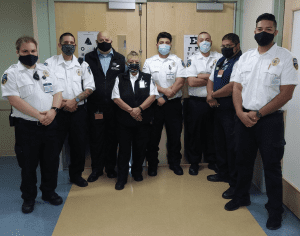 Security Manager Steve Medeiros was quickly notified of the incident and upon further conversation with the patient, had learned the substance was heroin. It was learned that the patient had intended to ingest the substance, but because of Officer Matos' increased attention to detail, the patient's plan was halted.
BHU Nursing staff was made aware of the incident, and the heroin was confiscated and disposed of in accordance with established hospital policy. Both Officers were submitted by SAH Risk Management for recognition by the SAH Safety Committee.
Security Officer Amy DeShay Receives C.A.R.E.S. Award
A special congratulations to Security Officer Amy DeShay, who recently won the non-clinical C.A.R.E.S. award! Officer DeShay was recognized by Sebastian River Medical Center's administration for creating a positive work environment and always going above and beyond in giving excellent customer service. Officer DeShay was awarded a plaque and certificate for the honor. Additionally, PalAmerican awarded Amy Performance of the Month for her heroic actions that saved her manager's life! Read more about Amy's quick actions on our blog.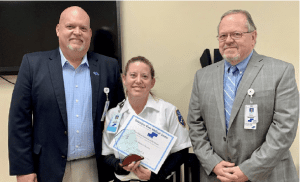 Executive Vice President Tony York on our Healthcare Security Officers:
"It takes special people to keep healthcare safe…security officers are selfless, courageous, helpful and omnipresent to the dangers found in the healthcare industry. Kudos to all of the women and men who put on a security uniform so that safe patient care can be provided at the highest levels – everyday! That's a hero in my book!"
We couldn't agree more! Thank you to all of our Healthcare Security Officers whom, in these unprecedented times, continue to be a positive force of leadership, empathy, and outstanding service under the PalAmerican name. You are heroes not only this week, but every day!
Interested in a career as a Healthcare Security Officer?
Visit our website to apply today!