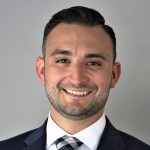 Sean Marvel, CHPA, PalAmerican's National Training and Development Manager, is passionate about training and creating new ways to find success. Part of that includes technology and utilizing it in a way that benefits the employee, customer, and client.
"I have found that the virtual security tools used in healthcare are normally segregated from the physical security program," Sean says. "If we are better able to see how emerging technology integrates with physical security measures, hospital security programs are able to stay ahead of the curve. The worst thing to let happen to your security program is to allow it to become antiquated." 
Here are some of his ideas for transforming physical security with emerging technologies. 
Security & Technology
In the ever-evolving landscape of healthcare security, protecting patient data is just one aspect of the puzzle. The physical security of healthcare facilities, encompassing video analytics, access control, and visitor management, plays a crucial role in maintaining a safe environment. Join us on a journey into the future, where emerging technologies are set to revolutionize physical security in healthcare, transforming the roles of our trusty security officers. 
The Need for Enhanced Physical Security in Healthcare 
In the world of healthcare security, the stakes are high, and the challenges are real. Patient safety, protecting sensitive areas, and deterring unauthorized access are paramount concerns. According to a study by the International Association for Healthcare Security & Safety (IAHSS), 71% of security directors report an increase in incidents over the past three years. The future of physical security lies in adopting advanced technologies that tackle these challenges head-on. 
Video Analytics: The Eyes That Never Blink
Video analytics serves as a force multiplier for security officers, providing an extra set of keen eyes and lightning-fast response capabilities. With the aid of artificial intelligence (AI) and machine learning (ML), cameras can analyze video footage in real-time, flagging suspicious activities, detecting anomalies, and even recognizing individuals. According to a report by MarketsandMarkets, the video analytics market is projected to reach $14.9 billion by 2026, indicating its growing importance in healthcare security. 
Access Control: From Keys to Biometrics
The days of traditional lock-and-key systems are numbered. Access control systems are evolving, embracing biometric authentication methods such as fingerprint or facial recognition. These cutting-edge technologies provide a seamless and secure means of verifying identities, granting access to authorized personnel, and raising the barrier against potential threats. According to a survey by HIMSS Analytics, 64% of healthcare organizations plan to invest in biometric access control systems within the next two years.
Visitor Management: A Digital Receptionist
Say goodbye to the outdated sign-in sheets and welcome the digital receptionist of the future! Visitor management systems equipped with self-registration kiosks, ID scanning, and badge printing streamline the check-in process. These systems not only enhance efficiency but also improve security by instantly identifying and alerting staff about unwelcome visitors or potential risks. According to a report by MarketsandMarkets, the visitor management system market is expected to reach $2.57 billion by 2023, showcasing its rapid growth in the healthcare sector.
Empowering Security Officers: The Changing Role
As technology advances, security officers evolve from traditional guards to tech-savvy superheroes. They become orchestrators of technology, leveraging video analytics, access control systems, and visitor management tools to monitor and respond to potential security incidents. This shift enables security officers to be proactive in their approach, preventing incidents before they occur. According to a survey by Frost & Sullivan, 78% of organizations believe security officers' roles will expand to include technology responsibilities. 
Leveraging Data for Proactive Security Measures 
With these emerging technologies at their disposal, security officers become data guardians, mining valuable insights to proactively identify vulnerabilities and patterns of suspicious behavior. By leveraging data analytics and real-time monitoring, security officers can implement preventive measures, fortify the security posture of healthcare facilities, and ensure a safe environment for patients and staff. According to a study by Deloitte, 80% of organizations consider proactive security measures as essential for the future of healthcare security. 
As we gaze into the future of healthcare security, it becomes evident that emerging technologies are set to transform the physical security landscape. Video analytics, access control systems, and visitor management tools empower security officers, turning them into masters of technology and data. By embracing these advancements, healthcare facilities can create a safer environment for patients, staff, and visitors. 
To implement these cutting-edge programs, Healthcare Security Directors can make a compelling case for budget allocation. A few strategies they can employ to help increase operating budgets: 
Highlight the Need:

 Emphasize the increasing security risks faced by healthcare organizations and the potential consequences of security breaches. Present statistics and case studies to demonstrate the urgency and potential impact of investing in advanced physical security measures.

 

Show Return on Investment:

Illustrate how implementing these technologies can result in significant long-term cost savings. For example, highlight how video analytics can reduce the need for manual monitoring, saving personnel costs, and enhancing incident response efficiency.

 

Mitigate Risks:

Explain how these technologies can help mitigate risks associated with data breaches, unauthorized access, and visitor management issues. Showcase how they align with regulatory compliance requirements, including HIPAA, and protect patient privacy and safety.

 

Demonstrate Operational Efficiency: 

Showcase how these programs can enhance operational efficiency and staff productivity. For instance, highlight how streamlined visitor management systems can reduce administrative burdens, allowing staff to focus on providing quality care.

 

Industry Benchmarks and Best Practices: 

Reference industry benchmarks and best practices to support the case for implementing emerging technologies. Cite successful implementations in other healthcare organizations and showcase how they have improved security outcomes.

 
By articulating the need, showcasing return on investment, mitigating risks, demonstrating operational efficiency, and leveraging industry benchmarks, security directors can make a compelling argument for budget allocation. With the necessary resources in place, hospitals can embrace the future of healthcare security, ensuring the well-being and protection of all within their walls. 
Remember, effectively communicating the benefits and emphasizing the importance of these investments in patient safety and data protection will go a long way in gaining the support needed to implement these critical programs. 
About PalAmerican Security
PalAmerican is a North American security company with leading-edge resources and expertise covering all asset protection specialties. We provide complete turnkey security solutions for enterprise clients and are focused on delivering exceptional quality and outstanding service. By establishing highly efficient lines of communication and investing in our people, we have developed the most responsive customer service programs in the industry. Learn more at www.palamerican.com