By Johnny Boykins, Operations Manager – Florida
I am an Operations Manager tasked with overseeing security service operations in Florida, and I have several healthcare facilities in my portfolio. I decided to work a few 2nd and 3rd shifts to better understand the experience of my team. This is what I learned.
The Clearance
Before you can work as a healthcare security officer, you need to be vetted and cleared to work in the healthcare environment. I had to get medical clearance, receive a booster vaccine, and attend the hospital system's orientation before I was eligible to work a security post. After I completed the hospital's orientation, I quietly attended on-the-job training, and I was officially cleared for duty.
The First Day
I put on my black security polo and laced up my comfortable black trainers, clipped my hospital credentials to my lapel, and headed to the site to report for my shift. Arriving 15 minutes early, I made my way to the reception area where the security desk is located. I sat my things down near the security locker and learned that I made my first mistake.
"No one is allowed behind the desk," the receptionist snapped.
So, I gathered my things and waited in the lobby.  About ten minutes later, the receptionist yelled, "Mr. Security, you are all set". She wanted to clean the reception area and sanitize the surfaces before allowing me to relieve her of her duties. I put my things down and listened intently to the readout report. She provided me with an updated patient census, told me about the compassionate visitor's list, and informed me that I should be expecting four ambulance transports just in time for the PM shift change. And just like that, she disappeared behind the staff exit doors, and I was on my own.
The 2nd Shift
The 2nd Shift is two types of busy, and both require strict management of access control. Security is required to administer a COVID-19 screening to everyone entering the facility. The screening includes a temperature check and verbal acknowledgment of the COVID-19 questionnaire. Security is simultaneously required to answer the switchboard phone and questions from worried visitors. A second shift security officer must be good at multitasking with clarity of what is going on in all parts of the hospital. I felt the pressure of screening the physicians, nurses, CNAs, and EVS workers at shift change and had to transfer critical calls to the nurse manager, all while a woman with tears in her eyes was trying to ask me about her mother, who was just admitted.
The first few hours, I felt anxious, yet confident, that I could rely on my training and common sense. That anxiousness subsided when I hit the rhythm of 2nd Shift. The post-work hours are hectic. Friends and family members of patients are trying to squeeze in precious visits before visiting hours conclude. There would not be restrictions on visitations in regular times, but during a pandemic visitation and access was scaled back. Two visitors are allowed in a patient's room at a time, but it was almost impossible to keep track of each patient room and the number of visitors on the floor mainly because we were using analog sign-in sheets.
That is when I made my second mistake. The tired and overworked nurse manager walking down the hallway toward the reception desk shouted. "security"! I stand up and make my way towards her.
"What are you doing? There are way too many people on the second floor," she exclaimed.
I listened intently as she listed all my apparent failures as a security officer. I remained quiet during the tongue lashing but wondered if my healthcare security team has also experienced this kind of treatment. I made a mental note and got back in the game. The nurse manager would say that she now must be the bad guy and tell the family members they had to leave. I spoke up and took responsibility and began to reduce the visitor volume on the floor by respectfully asking families to adhere to the hospital's COVID-19 protocol.
With the help of some nurses and certified nursing assistants, we cleared the floors without incident. But I could not shake the tongue lashing I received and decided to ask the nurse manager for a minute of her time at the end of her shift. As she finished her final rounds and counts, she came over with what I felt was a bit of annoyance and tiredness. I introduced myself.
Speaking Up
"My name is Johnny Boykins, and I am the Operations Manager of the Security Team. I oversee all the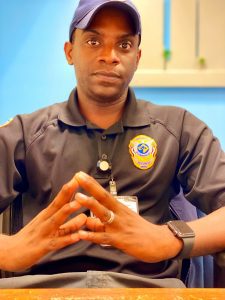 security programs in Florida, and I want to talk about our exchange from earlier," I told her.
To my surprise, the nurse manager gave me her full attention. I explained that I was concerned about the treatment of my security team members and the lashing she rendered to me. She stopped me, apologized, and explained that four people had died that day and that there was just a lot going on. I agreed with her but wanted to humanize our shared experience. I explained that while she was dealing with the death of patients in the clinical spaces, I was dealing with a lobby area of family members all wanting to deliver their final respects. I was the one having to provide the news that only two family members would be allowed to pay their respects. I also had to actively manage every visitor, staff member, and vendor access to the facility, not to mention remaining proactive in my security patrols. The nurse manager and I would go on to have a brief exchange, and all was forgiven. I am glad I spoke up, but I also wondered how many of the officers I work with would have taken it in silence and moved on.
No one goes into healthcare security or the security officer profession because they dream of making the big bucks. Most of us come to this work because we commit to serve. We come to healthcare security with a mission to help, and it is a misnomer to believe that being a security officer in healthcare does not require a skill set. Healthcare security officers may not be clinicians or healers, but they do undergo a few levels of training, licensing, and proficiency standards and are worthy of respect, particularly being called by our names, given that we all have our names on our hospital credentials.
One of the biggest lessons I learned during my shift is that about half of the people you interact with as a security officer sees through you. They do not look you in the eyes, they talk about you or complain about sticking with protocols, or they become frustrated with you because you are not moving quickly enough or answering their questions to their satisfaction. The other half of the people are deeply appreciative of the work and presence of security. For example, I announced over the PA system that visitation has concluded at the end of visiting hours. As soon as the lobby area was cleared and the automatic doors were locked, I made rounds looking for those last-minute visitors. I checked in with the nurse's station, and they would tell me the room numbers with straggling visitors. I would politely knock at the door and let the visitor know what the visiting hours were for the next day. In 15 minutes, I was able to usher all the visitors out of the facility. Nurses would stop by the desk on their way to their breaks, thanking me for helping them clear the floor. They were able to complete their procedures without the demanding pressures of lingering family members. Thumbs up from the nurse's station is a good feeling.
After visiting hours are over, the hospital slows down and gets noticeably quiet. That was my queue to take a short break and eat my lunch. I would complete and finalize a few incident reports and prepare the security workstation for my relief's arrival. The 2nd Shift was busy, I learned that there was not very much time to complete my online training, and you do not get a break until after visiting hours have concluded.
As a leader, I have a better understanding that you cannot just "do your online training" on shift because there is not enough time to complete it. My relief showed up dutifully 15 minutes early. I provided him with the readout, gave him the security keys, and reviewed the pass-down log. I wished him a good shift and walked through the staff exit doors.
The 3rd Shift
The following week I volunteered to cover the 3rd Shift for a team member who had an immediate family emergency. If I am sincere, it had been over a decade since I've worked an overnight shift, so I left work early to take a short nap beforehand. I reported to the hospital lobby about 15 minutes early, but the officer I was relieving was conducting staff escorts to the parking lot. The officer, surprised to see me, asked if I was going to work the shift. I responded yes, and she said she could cover it if I needed her to. I said I think I can handle one overnight shift. She laughed and gave me some pointers. Conduct your side duties early, be prepared to do many escorts at 2 am for the staggered shift change and hope you don't get a witching hour. Confused, I asked her to explain. She said, the 3rd Shift is primarily quiet, the hospital slows down, the radio chatter is infrequent, and no one comes into the lobby, but there are certain times when things get hectic, and suddenly, it's over, hence the witching hour. The officer talked a little shop talk and departed through the staff exit doors.
I took the officer's advice and completed some of the side duties, including bagging face masks, prepping face shields, replenishing the "clean" pens, and making sure there are plenty of supplies for the day shift. I conducted an exterior patrol and returned to the hospital lobby. I decided to take an hour and complete some online training, and as soon as I clicked the start button, an emergency code sounded over the PA system.
"Code Blue Room 227, Code Blue Room 227, Code Blue Room 227!"
The stillness of the lobby came alive when respiratory therapists and nurses started running up the stairs because the elevators moved too slowly. Security doesn't have a role in code blues during overnight shifts because there are not visitors.  About 20 minutes after the Code Blue, two physicians were buzzing at the door. I let them in and asked for their ID and tried to conduct the COVID-19 Screening Protocol. The physicians were not thrilled with my questioning but complied. I suspect their discontent had less to do with me and more to do with having to come into the hospital at two in the morning.
As soon as I started to log an incident report, I get a phone call from the back ambulance door. Two ambulances were waiting with an after-hours admission. I buzz them into the ambulance hallway and made my way over to meet them. Walking through the hallway, I asked myself, 'is this was the witching hour?'. I contacted the nurse manager, and she worked with EMS to get the late arrivals checked in. I returned to the lobby, and in a matter of minutes, the stillness I previously experienced was born again.  I didn't have the energy to return to my online training, but I did spend the rest of the morning escorting nurses to the parking lot and eventually watching the sunrise through the lobby doors.
Lessons Learned
The lesson I've learned about 3rd Shift is that it is not as sleepy as you think. I also realized that the 3rd shift does a great deal of prep work for the day shifts, and it is a vital service for security and hospital operations. The nurses leaving at night were tremendously thankful that I escorted them to their cars. Even the doctors that came in early in the morning were impressed that I made them slow down and present their credentials before letting them enter the facility. I don't think I experienced a true witching hour, but I have a better understanding of how things can change in a matter of minutes.
I have a great deal of respect for the healthcare security officers I work with every day. Their jobs are sometimes thankless, but they provide a vital service. It does take skill to work as a healthcare security officer. I hope more leaders in the security industry take the time and truly experience what the mainline security professionals experience on their shifts. It will open your eyes to a perspective you may not be able to recognize.