Recognition is one of PalAmerican's core values as we look for ways to instill a sense of pride and professionalism in our officers. We want our officers to feel a sense of empowerment and increased commitment to the job knowing they are making a difference in people's lives and impacting the client in a positive way. This is done in a variety of ways including through our monthly recognition program, which allows peers and leadership to nominate officers for Performance of the Month, Performer of the Month, and Unsung Hero awards.
Read on to learn more about how our Officers make the PalAmerican Difference.
OFFICER SPOTLIGHT: BILLY SCHRIMER
Billy Schrimer has been a member of the PalAmerican Security team since June 2021. He brings with him vast experience in security and has worked as a security officer for quite a few years before starting his career with PalAmerican. Since Billy joined PalAmerican, he has always been consistent with his services. He is absolutely dedicated to his work and is known to be a dependable and reliable person among his colleagues.
What Makes Him Stand Out
Given the number of years he has spent in the industry, Billy's intuition is worth praising. He has a keen eye on the movement around him and can sense anything unusual much more swiftly than anyone else around him. Billy is an extremely calm person; his smiling face is always welcoming. He loves to strike up conversations with people at his facility which has helped him a lot of times in handling crises in the best possible manner. He is a skilled communicator and has managed to problem solve in desperate situations by talking it out until help arrives. On October 9, 2021, Billy identified and effectively handled a crisis when a patient attempted to escape the psych hall at Penrose Main Hospital in Colorado Springs. Billy was on duty at the time and saw the patient trying to get out of the door. He immediately sensed that something was off and politely engaged the person in a conversation. The person was a patient of high stature and under the influence of a substance. He wasn't ready to listen and instead resorted to profanity. The patient began to kick Billy and tried to swipe his legs out from under him. Billy quickly placed the patient on the wall using the Management of Aggressive Behavior (MOAB) technique and raised the panic alarm.
Billy's quick thinking and swift action stopped the patient from getting out until help could arrive and the patient was placed in a four-point restraint. Because of his decisive actions, the patient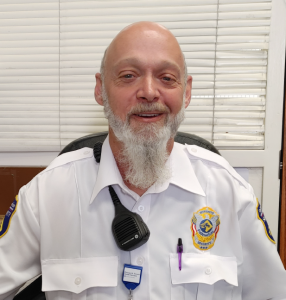 was maintained in the emergency department for treatment with no injuries.
The Difference Maker
The workload at Penrose Main Hospital is extreme and requires one to be always on their toes. During this time at the facility, he has always extended his availability to cover shifts in case of unforeseen situations. He is always punctual and has never once expressed his unwillingness to be available when required. Billy has proven himself as an excellent team player and an outstanding Security Officer. Billy has strong morals, takes pride in his work, and aspires to give his best every single day.
World-Class Training
Billy feels proud to be associated with PalAmerican and has immense faith in the robust training the company provides.  He feels it covers a broad range of programs and techniques that allows officers to handle almost all kinds of emergency situations. He believes that the training has made him more confident in his abilities and he knew what he was supposed to do at the facility if the situation became physical. Billy says the unique part of the training is that apart from physical training and other essentials, officers are also trained to recognize signs of mental health concerns and are taught to approach such situations with extreme caution and empathy.
Thank you, Billy, for being part of the PalAmerican Difference!
If you're interested in the security industry, check out our careers page to find a position that fits you.