"If you don't use it, you'll lose it".
-Jason Magallanes, National Training and Development Manager
When it comes to first aid, maintaining your skills and staying abreast of new information is crucial. Training can be easily and quickly forgotten due to the fact that most First Aid Attendants do not provide CPR on a daily basis or frequently respond to persons experiencing a stroke. As a First Aid Attendant, will you remember how to professionally respond to an emergency first aid situation of this nature one or two years after receiving your first aid certification?
We Want to help keep first aid and lifesaving skills at the top of your mind, so we have created an eight-part mini-series that will appear once a month to do just that. The first topic is Emergency Scene Management.
4 Steps for Emergency Scene Management
Proper emergency scene management could be the difference between life and death. There are four steps to take when you find yourself in this position.
Before we get into them, let's talk liability. There are a variety of reasons people hesitate to help, such as the fear of a lawsuit, contracting a disease, or making things worse. If someone is unconscious, it is your choice to help them or not. If you do, be sure to perform your skills at the best of your ability. Remember, you are not obligated to help. It is a bit different when it comes to injured people who are conscious. They have the right to decline help and you need their consent to help them. If they decline, you can still provide support and call for medical assistance.
Good Samaritan Principles from St. Johns Ambulance:
No legal duty to respond
Identify yourself and get consent
Use reasonable skill and care
Don't be negligent
Don't abandon the casualty
1. Scene Survey
If you are the first or one of the first people to arrive on scene, assess what is going on around you and make sure you consider your personal safety because you cannot perform your role if you become injured yourself (think about putting on your oxygen mask before you help others on a plane).  Survey the scene to identify the severity of injuries and attempt to determine the causes of the injuries through verbal communication if the patient is not unconscious. After identifying potential causes and the associated hazards, as well as mitigating any remaining safety hazards where possible, call out for help to attract bystanders for additional support. Even if they do not have their first aid certificate, you can still guide them to help with tasks such as making the area as safe as possible.
Next, determine which person is in the most danger or in need of help, and identify yourself and ask for consent. As mentioned earlier, this is very important as you can't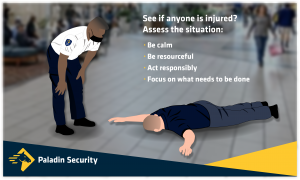 provide first aid to someone who doesn't want to be assisted or touched.
You will likely have to take on a leadership role when managing an emergency, so you'll want to consider the following:
Be calm
Be resourceful
Act responsibly
Focus on what needs to be done
2. Primary Survey
Once you've identified who needs help and asked them for consent (if conscious), it's time to check their ABCs.
Airway
Breathing
Circulation
Airway
For airway, lay the person flat on their back and open their airway. Check to see if it's open and clear and that there aren't any obstructions. If there are, swipe two fingers through the mouth to remove what may be blocking the throat.
Breathing
Next, bring your cheek close to their mouth and nose to see if they are breathing. Be patient though as their breath could be very faint or shallow.
Circulation
Now, check for circulation. Do they have a pulse? Are they severely bleeding? What about their skin color and temperature?
3. Secondary Survey
After checking circulation, it's now time to do a more in-depth check on vital signs and a detailed head-to-toe. There are four primary vital signs:
Body temperature
Blood pressure
Pulse or heart rate
Breathing rate
These can be checked when doing a detailed head-to-toe, which including checking:
The head and face for any bruises, contusions, movement, or anything else that would be out of the ordinary
Ears and eyes for discharge or blood
Nose and mouth to ensure nothing is blocked, bleeding, or broken
Lung and gastrointestinal system for coughing, swelling, or liquid
Arms, hands, legs, and feet for range of motion, feeling, or bleeding
You could also conduct a SAMPLE history which is used to assess alert people:
S – Signs/Symptoms
A – Allergies
M – Medications
P – Past pertinent medical history
L – Last oral intake
E – Events leading up to present illness/injury
4. Ongoing Casualty Care
Once everyone involved has been assessed and treated to the best of your abilities, it's important to maintain care after the initial response and stabilization. If there's one thing we've learned from watching medical dramas, it's that symptoms can change in a second and it's important to be prepared to continuously monitor their state of health. Make sure everyone's needs are addressed and keep them warm. Now is also the time to record what you've found and prepare a report, which will be useful for when you transition the person into the care of first responders.
Remember, it's your responsibility to keep on top of your training if you hold a certificate in first aid. In addition to reading your first aid training materials, we highly recommend continuously practicing your skills through scenario-based training and emergency drills.
"If you decide to help, you need to understand what to do. Otherwise, everyone's safety can be at risk!"
-Jason Magallanes