Two PalAmerican Security Officers, JR Reynolds and Payton Richards, were recently recognized for their heroic efforts during a fire that engulfed an apartment complex.
On Monday, April 9, Officer JR Reynolds was working his shift at Allegheny Valley Hospital in Natrona Heights near Pittsburgh, Pennsylvania when he was notified by fellow Officer Payton Richards that the apartment complex across the street appeared to be on fire. Officer Reynolds retrieved a fire extinguisher and both Officers raced to the building, finding Harrison PD on scene when they arrived.
As a trained fire fighter, Officer Reynolds entered the building with Harrison Police. They evacuated three residents and entered remaining apartments to search for pets. They evacuated two cats and a dog while the fire escalated into a three-alarm inferno.
The scene outside the hospital was rapidly deteriorating; fire hoses blocked the entrances to the hospital, emergency vehicles were obstructing traffic, and hospital access became nearly impossible. Officer Richards opened the emergency exit from the garage and Officer Reynolds deployed his team in such a way to manage traffic, and ensure ambulance access and pedestrian safety.  Officer Reynolds and his team remained on site until the fire was extinguished and the emergency vehicles were able to leave.
A representative at Allegheny Hospital reached out to PalAmerican to commend the actions of both Officers Reynolds and Richards, saying "Later that evening, I was talking to some employees of the lab.  They told me one of their friends, a lab employee at AGH, lived in the now burned-out building.  She saw it on Facebook and frantically raced home in hopes of finding her dog, who was left in the apartment, alive. JR had saved her dog."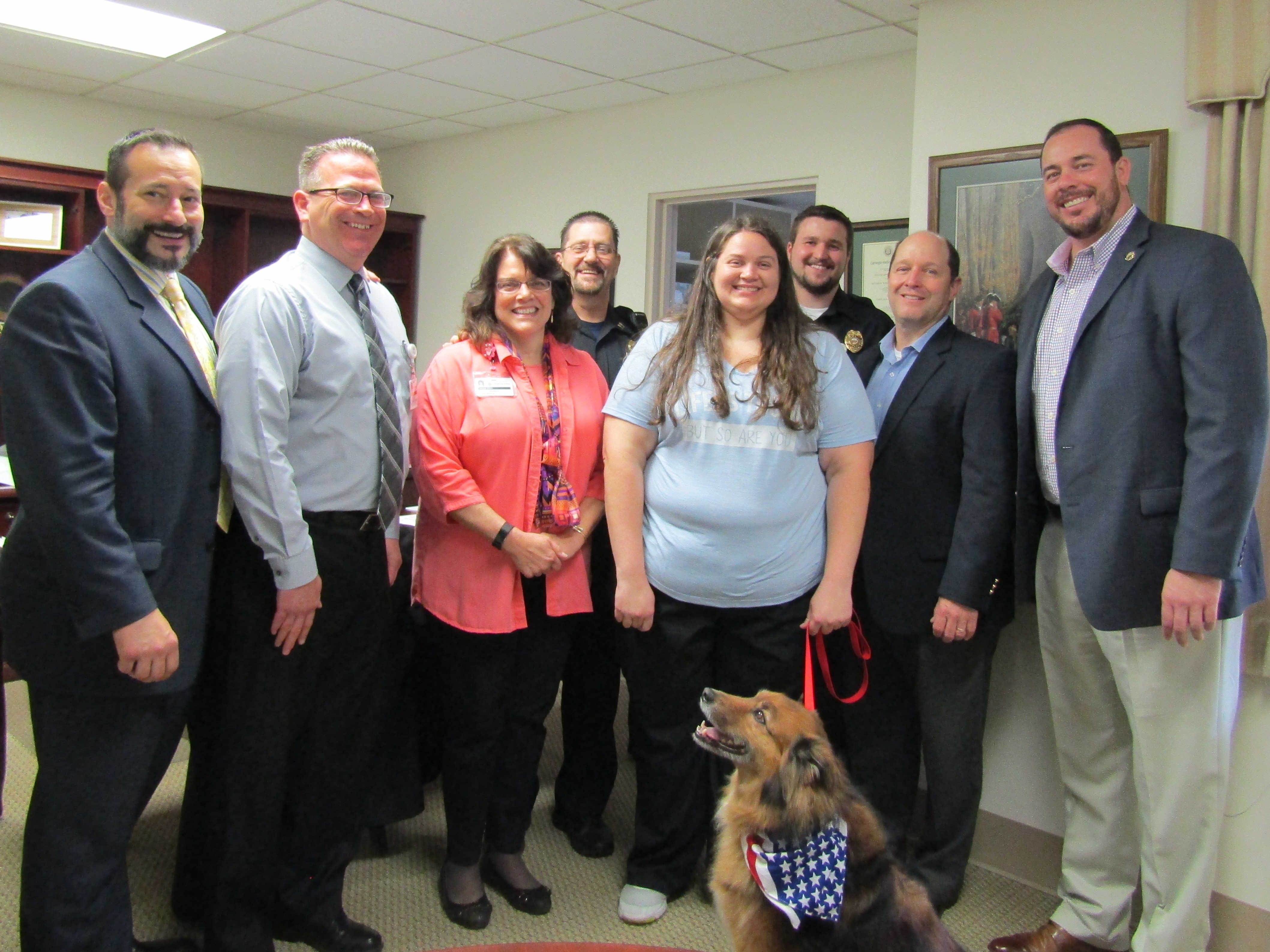 She added, "Although there were many heroes that day, Police, Fire Fighters, and Employees, I wanted to recognize JR's courageous efforts to assure the safety of the building's residents and pets.  I would never have asked JR to enter a burning building that day, and yet, I believe, I could not have prevented him from doing so."
The Allegheny Valley Hospital formally recognized both Officers Reynolds and Richards with RAVE (Recognize and Acknowledge Valued Employees) awards, which are presented to AHN employees who provide exemplary care or service. The awards were bestowed as a surprise to the Officers in May, presented by the Hospital CEO, along with the owner of the dog who wanted to personally thank them both. In addition, Officer Reynolds was distinguished as PalAmerican's "Performance of the Month" award winner in April.
PalAmerican Vice President Jason Begin shared his admiration for Officers Reynolds and Richards, "I am proud of our team members on a daily basis for all the hard work they do protecting our clients, people, and property, but to see them go above and beyond like that for members of the community is simply amazing and greatly appreciated by all."