Defensive driving - the practice of using driving strategies that minimize risk and help avoid accidents, by predicting hazards on the road.
- - -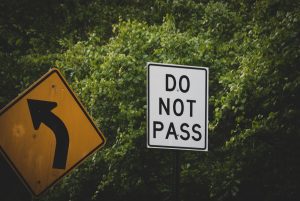 Safety is everything when it comes to driving, yet there are numerous people on the roads with dangerous driving habits. Some are very experienced and confident while others may be newly learning, or distracted drivers. As the weather begins to change and winter conditions are around the corner, we've helped outline some safety tips to navigate the varying driving behaviors experienced on the road.
The importance of Defensive Driving
Defensive driving aims to reduce the risk of driving. It also prepares drivers to instinctively anticipate potentially dangerous situations. Driver's must exercise control, discipline and safety while on the road and should practice these safety driving behaviors:
Avoid distractions
Be aware of surroundings
Make driving at a lower speed the norm
There is no way to control the actions of other drivers on the road but driving defensively can help in avoiding the risk of an accident. In addition to protecting yourself against potential collisions caused by bad drivers, drunk drivers and poor weather, here are some items to consider and additional safety tips to keep front of mind.
Be focused: Driving requires complete attention to the road. There are several things to think of while behind the wheel such as: speed, road conditions, traffic signs and traffic laws, to name a few. Staying focused on driving (and only driving) is critical to remaining safe.
Be alert: A large component of defensive driving is being alert. This allows the driver to react quickly and safely to a potential problem.
Be cautious: Drivers will see this on road signs, yet many may not internalize them. Road signs are in place for a reason and are intended to help better prepare the driver on what hazards or risks may be encountered.
How to Prevent Potential Hazards
Pre-trip Check List:
Check weather and road conditions before hitting the road
Check tire pressure before leaving
Check wiper blades and replace if need be
Determine the safest route before you begin driving
If using a GPS, ensure it is handsfree and set up prior
Ensure you have at least half a tank of gas before your departure
Ensure outside lights are functioning correctly
While Driving:
Ensure seatbelt is on
Lock your doors
Keep the volume of the radio on low or off
Routinely check rear-view and side mirrors
Keep your cell phone away from you and do not touch it while driving
Proceed with caution
Perform a complete stop at a stop sign
Once You Have Arrived:
Park your vehicle in a well-lit area
Ensure you are parked within the parking stall lines
Leave enough space in front and behind your vehicle to safely get out (if parallel parked)
Roll the windows up
Ensure wiper blades are turned off before shutting off the engine
Lock and secure your vehicle once complete
We realize how obvious and mundane some of these tips may seem, however drivers are still not taking these safety tips seriously, as human error is responsible for 94% of all crashes. * The thought and decision-making process of drivers is also causing crashes, as decision errors like driving too fast, false assumptions of others' actions and illegal maneuvers make up 33% of crashes. *
The next time you are behind the wheel and take to the road, please consider the safety tips we have suggested. Driving is a serious matter and being safe on the road can result in life or death.
*: https://www.defensivedriving.org/dmv-handbook/defensive-driving-facts/