The eeriest day of the year is creeping upon us as young children everywhere wait patiently for an evening of trick-or-treating! As families begin to prepare for Halloween, it is important to keep the safety of children in mind when planning costumes, trick-or-treating routes, decorations and more.
As witches, fairies, vampires and superheroes await a spooktacular evening of scares, ghost-like boo's and tricks, we've helped prepare a list of safety tips for a safe and fun Halloween night.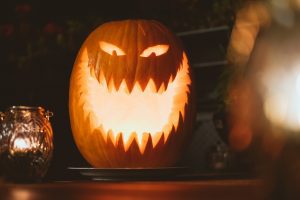 Tips for Halloween trick-or-treaters and Parents
Costume Safety
Reflective strips of tape should be placed on the front and back of costumes
Costumes should fit properly to prevent trips and falls
Avoid accessories such as: toy guns, laser pointers, oversized jewelry or hats
Ensure the child is wearing a warm coat, along with mittens if necessary
Avoid masks that cover the mouth or eyes
Trick-or-Treating Safety
Travel in groups of four or more
Bring additional bottle of waters
Travel with flashlights and/or reflective tape
Exchange contact information with those in the group
Determine a safe route of where the children will be trick-or-treating
Remind children not to eat any of their candy while trick-or-treating
Remind children to never enter a stranger's home
Use the crosswalks when crossing the street. Do not cross between other cars or trees
Tips for Motorists
Do not follow a group of trick-or-treaters with a vehicle
Drive extremely slow and cautiously as trick-or-treaters are more likely to jaywalk
Turn your radio off and roll down your window so you can hear accordingly
Do not text or drink and drive
If you can, avoid driving all together
Home Safety
Ensure the home is well lit
Clear front entrance and door ways
Tend to a pet to ensure they are calm when trick-or-treaters arrive
Do not light candles inside pumpkins
Parents, please take a moment to remind the children that Halloween is the only acceptable time to accept candy from strangers, after it has been inspected by parents and deemed safe to eat.
Whether you may be accompanying the children or greeting trick-or-treaters at home, we hope that you will review these safety tips and take them into consideration.
Happy Halloween!