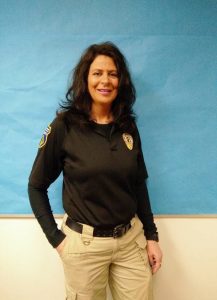 What in your opinion are the responsibilities of a PalAmerican Security Officer?
Answer: To ensure the safety of the public, as well as the staff and patients along with the premise of the hospital inside and out, as it should always be safe and secure.
What initially motivated you to join the security industry?
Answer: I wanted a job that represented professionalism, integrity, and respect.
Which unique traits do you believe women bring to security?
Answer: In my opinion, women seem to be more intent on listening and addressing issues with compassion and understanding. Good communication is also usually a great quality females provide especially because we are working in a male-dominated industry and should always voice our opinions.
Please describe PalAmerican Security in a few words.
Answer: PalAmerican Security always addresses any concerns of the employees in a timely manner. It is a great company to be an employee of and females are treated equally.
What's the best piece of advice that you've received that you would pass on to women following in your footsteps?
Answer: Always use your voice to express and stand up for what you believe in.