With summer officially here, more and more people are grabbing their bikes and hitting the road or trails. That means bike safety is paramount. Here are a few tips to keep you safe while out for a ride.
Bike Safety 101
The most important tip when it comes to biking is to always wear a helmet. It's something that is often overlooked but crucial for keeping you safe. Helmets are designed to help prevent injuries to your head by helping to dissipate the force of the impact. According to the CDC, in three out of four bike crashes, bikers usually end up with some sort of head injury.
Another way to stay safe is to be sure you are seen. Attach a light to the front and bike of your bike along with reflector strips. This is to ensure drivers, pedestrians, and other cyclists notice you at any time of the day. While you're at it, add a bell to help notify pedestrians who may not see you.
Obey Traffic Law
If you're cycling on the street, it's important to follow the rules of the road - something many cyclists disregard. Even in a bike lane, road rules apply.
If you're new to cycling, be sure to check out hand signals for cyclists, which help drivers and other riders anticipate your next move.
As for riding on the sidewalk, check with your local state or jurisdiction to see if it's allowed.
STAY SAFE OUT THERE!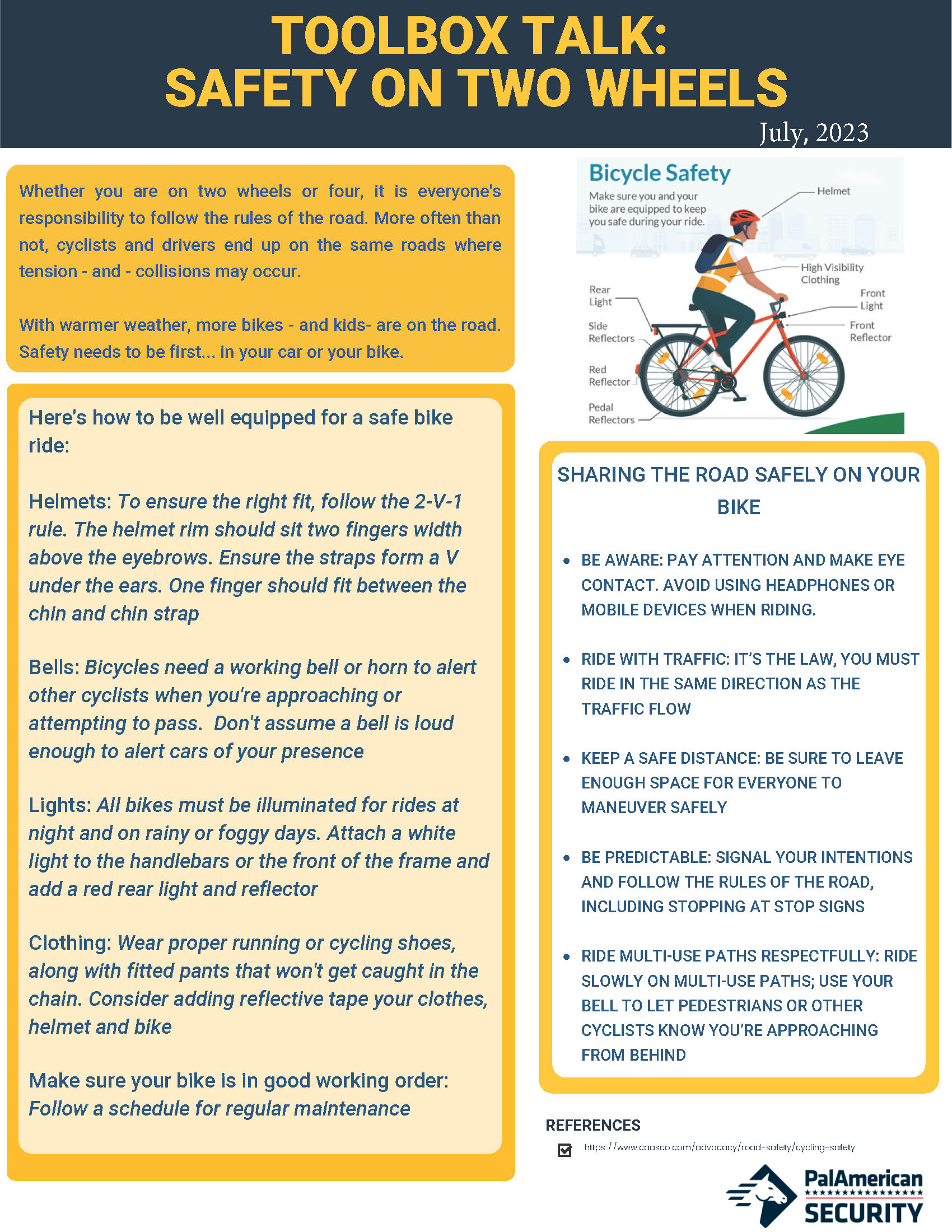 Being Prepared
---
For more security safety tips, read these helpful articles! PalAmerican's company-paid and on-the-job training ensures that newcomers to security are ready to perform with the tools and confidence they need to succeed. If you are ready to jumpstart your career in security, check out our careers page.
Here is a free downloadable template on How to Write the Ideal Security Guard Resume and a step-by-step guide on How to Become a Security Guard in the U.S.
Be sure to listen to The Difference Makers podcast and read our blog to learn more about PalAmerican and the exciting world of security.