Eric is one of PalAmerican's most admired Patrol Officers. He has been in the security industry for 35 years. When he first started, he just wanted to try something new; now, he has been in security ever since. Having extensive experience and dedication to the industry, Eric's passion for the world of public safety shines through in his day-to-day performance. He is a beacon of positivity, and his love for others and genuine desire to help his community inspire us daily.
THE IMPORTANCE OF FAMILY
PalAmerican has impacted Eric's life in a way we can only be proud of. With his vast knowledge, experience, and grounding in the world of security, we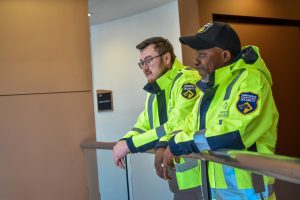 are thrilled to have him as a member of the PalAmerican Family and thankful for his positive perspective as a security professional. As he puts it, "This company is like family to me." Throughout his time at PalAmerican Security, Eric has formed countless meaningful connections with co-workers and clients, "With this job, I feel good coming to work and being around family. I feel supported by leadership and by my colleagues". Having a welcoming culture and fostering a caring community have proven essential to Eric. He genuinely enjoys being at work and feels a personal connection to the people at his job site, his team, and the company. Eric is a shining example of what makes PalAmerican stand out from any other security company. Our biggest pride and investment is in our people, and we truly owe our success to every single staff member instilling The PalAmerican Difference.
PEOPLE-TO-PEOPLE TRAINING FOR SECURITY SUCCESS
Eric finds that the most critical skills needed for the job are interpersonal and that people-to-people training is vital for a security officer's career success. Knowing how to engage with the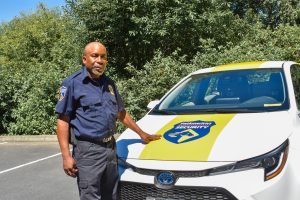 public is a big part of PalAmerican's industry-leading training and the starting point of all customer service-oriented positions. It also influences officers to have base-level respect towards everyone when helping or dealing with a situation. To Eric, respect means "to look out for each other, value and care for people, and sometimes even love people." Holding value for others allows for an empathetic approach to security.
LENDING A HELPING HAND
Eric demonstrates the success of our people-first approach and empathy-led security model by going out of his way to help those around him, no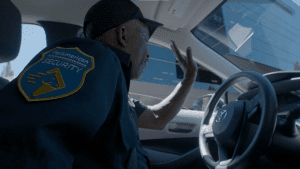 matter who they are or what the situation is. His dedication to customers and those around him do not go unnoticed. On many accounts throughout his career, customers have recognized him, receiving tokens of appreciation for his kindness and even letters. On one occasion, Eric found a family staying in a "cardboard house." As per his duties, he remained on site until the family could leave, helped them pack and supported them with $50. Eric went above and beyond the duties of his job and made a real impact on these people's lives forever. Out of a genuine interest in the well-being of others, Eric has been able to find a passion for helping the public and keeping his community safe.
Eric is a shining example of security career success. His desire to help others and improve his community inspires us every day. As a security officer, you have the ability to make a difference. For anyone looking to get into this career path, Eric would advise you to "just be yourself, learn, and listen."
Thank you for your example and professionalism, Eric!
If you were inspired by Eric's story and are interested in starting a meaningful career in security, check out our careers page for all our opportunities within PalAmerican.
Unsure about how to submit a strong resume for a security position? Here is a free downloadable template to write the ideal Security Guard resume.
Be sure to listen to The Difference Makers podcast and read our blog to learn more about us and the exciting world of security.