School security has become more critical than ever in recent years. Whether it's elementary or secondary schools, these facilities should be a safe place for students to gather and learn. On-site school security officers are the most effective way to ensure the safety and security of students and teachers on school grounds.
A position as a school security officer shouldn't be taken lightly, as vulnerable students and staff will look to you for leadership in emergency situations. If you're considering a role in school security, here's everything you need to know about the responsibilities your role will entail, as well as how to get a jumpstart in your career as a school security guard:
What is the role of the security guard in a school?
While the core of most security officer jobs remains the same (to protect those within a facility and respond to emergency situations), school security has some nuances compared to other security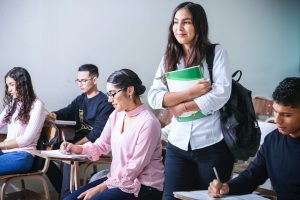 guard jobs. As a school security guard, you'll get a sense of purpose and accomplishment knowing you're protecting vulnerable children of the future and those responsible for their education. School security guards also have a bit more flexibility with their hours, as schools need overnight patrollers, security officers during school hours, and early morning patrollers before school starts. As a school security guard, you may interact heavily with students of varying ages, so you'll need the right communication skills to deal with this group.
In a nutshell, the duties of a school security guard include:
Protecting students and staff members within the school grounds
Responding to emergency situations
Enforcing campus rules and regulations
Safeguarding the school grounds from suspicious people and activity
Patrol and supervise the school campus
Let's look at these duties in more detail:
Protect students and staff members
The school security officer is the first line of defence for the school's security. They'll be responsible for protecting the school community from hazards and danger. This can include being aware of any suspicious person entering the school ground, helping students cross the roads and reach their buses safely (in the case of elementary schools), ensuring the safe flow of traffic within hallways, and intervening in conflicts between students on campus. Depending on your state, licensing, and laws, school security guards may be armed to aid in further protection.
Respond to emergency situations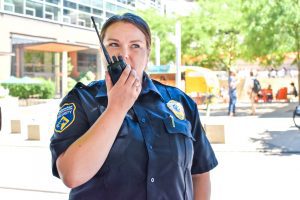 Emergencies in a school can be anything from a fight, fire, injury, or active shooter. School security guards are the first authoritative figure students, and staff will turn to in these types of situations. The school security guard should have excellent emergency response skills, know the protocol for various emergency situations and act swiftly. Some duties may include vacating the premises calmly and efficiently and knowing when to call law enforcement, paramedics, or the fire department should a situation require further assistance.
Enforce campus rules and regulations
Campus rules exist to create a safe environment for all within the facility. A school security guard should be knowledgeable of:
All school safety rules
Be able to communicate effectively
Enforce rules and authority when necessary, in a firm but respectful manner
Safeguard the school grounds from security breaches
One of the most essential duties of a school security guard is to act as the first line of defence against suspicious activity. This can include checking visitors' identification and rejecting those that appear suspicious or knowing how to use metal detectors and other security technology to ensure those entering the school are not carrying weapons or illegal substances. In the case of severe security breaches, the security guard may have to act in self-defence or deploy their firearm (if applicable).
Patrol the school 
School security officers are responsible for constantly observing the behaviour of those on campus. This includes regular patrols of the premises, and dorms (if applicable), conducting random security checks and reporting suspicious behaviour to higher authorities. They should also alert the correct personnel when they find evidence of substance or alcohol abuse, illegal substances, child abuse, or medical conditions that require further interference.
PalAmerican offers school security services with best-in-class teams of carefully vetted and highly trained security officers. Learn more about our security services. 
What are the qualities of a school security guard?
A school security guard should be firm yet respectful in order to enforce rules and regulations with outsiders as well as students and staff members. They should be able to keep a level head in emergency situations and act efficiently. Qualities a security guard should have include:
Sharp observation skills
Physical fitness and stamina
Communication skills
Customer service knowledge
Integrity
Good writing skills – many reports/logs and audits are completed on a daily basis
Leadership
Empathy
Attention to detail
Problem-solving skills
Critical thinking
Teamwork
Job requirements for a school security guard
Job requirements for school security guards will vary according to the city, state, and school district. At its most basic, however, the following are the requirements to pursue a career in security.
Be a US citizen
Be authorized to work in the US
Be at least 18 years of age
Have a high school diploma
Take the necessary security guard training to obtain a security license in your jurisdiction. Requirements vary per state in the US.
Complete and submit a criminal background check and drug screen
Be in good physical condition
Experience may also be necessary, depending on the job. If you've had any previous experience working in schools, on campuses, or with students, this will help you stand out from the pack. First-aid and self-defence knowledge are also a plus. Otherwise, experience in other security-related services can help you stand out.
If you are unsure about how to submit a strong resume for a security position, here is a free downloadable template to write the ideal Security Guard resume.
When it comes to training, PalAmerican takes great pride in being the leading training organization in the security industry, teaching others who have little or no previous experience in security and equipping them to help others, care for themselves, and create a safe environment. Our company-paid and on-the-job training ensure that newcomers to security are ready to perform with the tools and confidence they need to succeed. We even help prepare staff for provincial licensing exams and tests.
Start a rewarding career in school security
At PalAmerican, we're committed to your long-term success and development goals through our promotion-from-within philosophy. In fact, many of our leadership team members got their start at PalAmerican as Security Officers. If you're ready for a rewarding career in security, check out our available jobs and apply to join our team of talented security professionals that we like to call The PalAmerican Family.
Be sure to listen to The Difference Makers podcast and read our blog to learn more about us and the exciting world of security.