"Security is not a product, but a process."
- Bruce Schneier
When it comes to training, PalAmerican takes great pride in being nationally recognized as one of the leading training organizations in the industry. We are teaching others with little or no previous experience in security and equipping them to help others, care for themselves, and create a safe environment. We encourage our teams to continue their training throughout their careers at PalAmerican. It is part of our C.A.R.E. culture of being Curious, Accountable, Respectful, and Exceptional.
Modern security equipment and gear are designed to help security professionals complete their job to the highest possible standard. But there is a lot more to the tools and techniques that Security Officers use daily to keep our communities safe and make the world a friendlier place. That is why we created this monthly mini-series where we share useful tips, best practices, and tutorials around security equipment.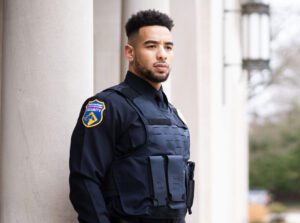 Our previous equipment tutorial went deep into the use of  Radios for security professionals. In this edition, we will dive into a vital part of any security team's uniform: Tactical Security Vests.
---
Security Vests 101
Security vests are a great way to keep staff safe while on the job. They are lightweight, easily adjustable, and come with pockets for extra storage—making them ideal for anyone who needs to carry a lot of gear. But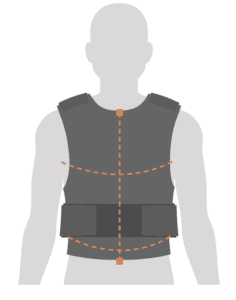 there's more to these vests than just their practicality.
Personal safety equipment like a tactical vest protects the center mass of the body. An adequately fitted vest is meant to protect against gunshots, stab or slash wounds from an edged weapon, or even blunt force trauma.
Sizing is crucial with tactical gear. You should be measured by a professional, ideally, someone who has sold and worn a vest before. A retailer can assist you in determining the best vest for you. A smaller vest does half of the task. For example, a vest designed to defend you against sharp weapons should reach your belt. Your underbelly will be exposed if you choose a shorter one.
Your comfort on the field is also determined by proper size. It's important to remember that mobility is crucial in most security roles; therefore, your vest shouldn't be too tight. Comfort and protection often go hand in hand, so be sure you're appropriately sized.
Best Practices and Tips
Here are some best practices to ensure you're getting the most out of your security vest and how to keep it in top condition:
Use these vests for their intended purposes only: they should not be used as a substitute for a bulletproof vest or any other type of protective gear
Never use your tactical security vest as a seat cushion or pillow! This can damage the protective panels, which will make them more likely to fail when you need them most
Don't leave your tactical security vest exposed to direct sunlight for extended periods of time—it'll wear out much faster than if you keep it in an air-conditioned office environment
Keep all zippers closed when not in use; this will help prevent any dirt from getting into the inner compartments where sensitive equipment is stored
Consider adding reflective tape to your vests if you work in low-light conditions or at night
When shopping for tactical security vests, look for ones made from breathable materials like cotton or nylon so that they don't cause sweating or discomfort during long shifts
Mindful Security Vests Advice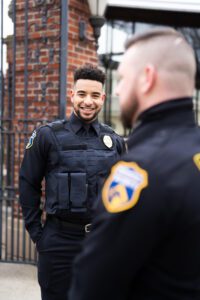 Although a vest is meant and designed for safety, without proper training, it can leave a Security Officer wearing it with a false sense of protection or what is sometimes called the "superman effect." The thought that the vest creates a bubble of invincibility might be dangerous and should not be tested under that premise. Yes, a vest can prevent a projectile from penetrating or minimize impact to the chest; however, you can still suffer from severe internal bleeding, broken bones, or trauma. Remember that your head and limbs are exposed.
PalAmerican Security conducts risk assessments at all our sites to determine the appropriate equipment and uniforms our staff wear. Make sure to always check with your employer for the preferred protocol for your location.
Security vests play a huge role in the safety of security officers and the general public. They serve a fundamental purpose and provide great value in protecting their wearer. If your role requires a vest and you're issued one, wear it!
Jumpstart your Security Career
We hope you found these tips and information useful for your security career. If you are looking to join the exciting world of security, here is a guide on how to become a Security Officer and a downloadable template for writing the ideal Security Guard resume.
PalAmerican's on-the-job training ensures that newcomers to security are ready to perform with the tools and confidence they need to succeed in their field. We'll even help you prepare staff for licensing exams and tests.
Interested in starting a meaningful and rewarding career in security? Check out our careers page.
Be sure to listen to The Difference Makers podcast and read our blog to learn more about us and the exciting world of security.