"Security is not a product, but a process."
- Bruce Schneier
PalAmercian takes great pride in being nationally recognized as the leading training organization in the industry. We equip people with little to no experience to create safe environments and care for others while encouraging ongoing training throughout their careers. It is part of our C.A.R.E. culture of being Curious, Accountable, Respectful, and Exceptional.
Modern security equipment is designed to help security professionals complete their job to the highest possible standard. But there is a lot more to the tools and techniques that Security Officers use daily to make the world a safer and friendlier place. That's why we've created a monthly tutorial mini-series showcasing the gear they use to go above and beyond.
We've already covered Radios and Security Vests. This time around, we will talk about a very common piece of equipment in the life of a Security Officer: the Duty Belt. 
Duty Belt 101
The duty belt, tactical belt, or "tac" belt is a core piece of equipment for any Security Officer. It helps keep tools and equipment at hand while providing support for the Officer's body. In this article, we will discuss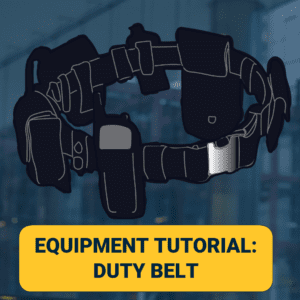 what items are included in a duty belt, how to use it properly, and some tips for doing so.
The first thing we'll talk about is what goes into making up a duty belt. Many pieces of equipment can be attached and carried on this belt. The key is to have them appropriately attached. If they aren't attached properly, that can create a range of motion issues for the Security Officer and cause injuries or safety concerns.
What to include in a Duty Belt?
There are two main components: the belt itself and the pouches that attach to it. The best kind of belt to get is one made of leather or nylon webbing. These materials are both durable and flexible enough to allow you to adjust the fit without having any extra fabric flopping around uncomfortably. The pouches themselves come in different shapes and sizes depending on what you want them for during your patrol. Examples of what you can carry in your belt are:
Handcuffs
Baton
Flashlight
Keys or access cards
Mini first aid kit
Gloves
Every duty belt comes with "keepers" or security clips. Duty belt keepers maintain the outer belt (what you attach your equipment to) attached to your inner belt (what holds up your pants) to prevent everything from moving around and keep all the equipment in place while you are in motion.
Belt Placement Tips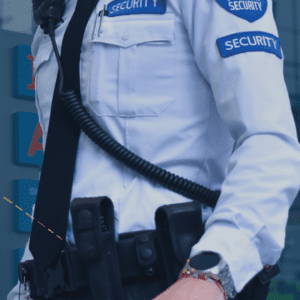 Security Officers should be practical with what they carry on their belts. You should include equipment that is useful but also permitted. It would be best if you didn't carry any equipment that hasn't been approved by your employer and/or client. Make sure you are also certified to use it.
Here are some useful tips and best practices when using a duty belt:
Equipment attached to your belt must be evenly spread out to balance the weight you carry.
Make sure your belt fits properly. You don't want to be caught with a too-loose or too-tight belt in an emergency situation!
Never place handcuffs, radios, or hard equipment behind your back or hips (sometimes called the "wing tips"). The danger is that any impact or even falling can cause injury to your back, spine, or hip bone.
For equipment like a baton, handcuffs, or radio, you want to position them closer to the front of your belt so there is easier access, and your hands don't get caught up when reaching for them.
The duty belt should be worn between your waist and hip bone so that it doesn't slip off easily and can be easily accessed when needed.
We hope you find these tips and information useful for your security career. PalAmerican's company-paid and on-the-job training ensures that newcomers to security are ready to perform with the tools and confidence they need to succeed in their field. We'll even help you prepare for licensing exams and tests.
If you are interested in starting a meaningful and rewarding career in security, check out our careers page. Here is a guide on how to become a Security Officer and a free template for the ideal Security Guard resume.
Be sure to listen to The Difference Makers podcast and read our blog to learn more about us and the exciting world of security.