At PalAmerican, we take great pride in our security services and strive to provide outstanding workplace environments. We know that our Security Officers go above and beyond to make a real difference in our communities and people's lives by championing our CARE culture. Being a true PalAmerican means to be Curious by seeking opportunities to learn and grow, Accountable to do what you say and own your behaviors, Respectful by taking care of one another and celebrating our differences, and Exceptional by having the courage to be great!
Sabrina Wright is a shining example of these values, and as one of PalAmerican's most admired security supervisors, she showcases how rewarding and exciting a career in security can be. Find out in this article how her journey at PalAmerican has impacted her professional and personal life.
"I have never worked for a company where I felt like they actually appreciate what I do so much. And that in itself makes you want to get up and go to work every day."
Why Sabrina Chose Security
It is not on Sabrina's agenda to take anything without precaution. While patrolling on campus, her priority is to make her worksite a safe space for students, faculty, and staff. One of the main reasons she wanted to work in security is because she truly enjoys working in a dynamic, fast-paced environment while providing a sense of security for everyone.
Building a "Trust" Environment
As part of Sabrina's engaging experience at her site, she has been able to form long-lasting relationships with many students and faculty by becoming a symbol of trust and safety for them. After working at the same location for a while, it is inevitable to see some familiar faces around, but it takes a special skill to foster an environment of trust through a people-first approach. Her outstanding customer service skills and kind-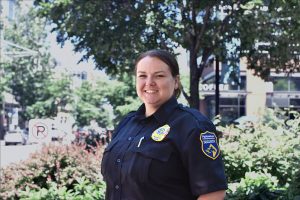 hearted, personable demeanour have not only proven welcoming to the public but have also allowed her to form genuine connections and learn that a simple "hello" can go a long way. You never know how it can brighten someone's day.
"I love my site. It's very diverse. You get to meet students from every background and colleagues that work here as well. They treat you like you're a part of their faculty. They're very welcoming, and yeah, I just love it! I don't know how else to put it."
Sabrina has proven to be the face of safety and comfort for many at her site. As a security professional, it is essential to protect, monitor, and improve your community. By doing this, Sabrina has shown us that deeper levels of trust can be built.
"The bonds I make with students, the faculty, and even just the people around my site, are truly rewarding. They appreciate the time you take to talk to them, get to know them, and help them."
Our Outstanding Teamwork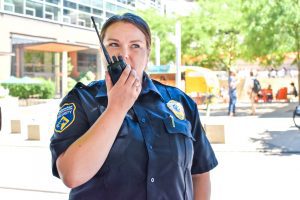 Teamwork is essential to creating trust and accountability throughout a security program when working in an exciting and fast-paced environment. By embodying our CARE culture and demonstrating Curiosity, Accountability, Respect and Exceptionalism, the PalAmerican Family can operate through the most outstanding levels of teamwork, setting PalAmerican apart from the rest. As demonstrated by Sabrina Wright, we strive to allow officers to flourish and feel comfortable at their sites with a personal level of care and devotion to their colleagues and customers.
"I've been offered to move, and I don't want to because this is my home." – Sabrina Wright.
If you were inspired by Sabrina's story and are interested in starting a meaningful career in security, check out our careers page for all our opportunities within PalAmerican.
Unsure about how to submit a strong resume for a security position? Here is a free downloadable template to write the ideal Security Guard resume.
For more stories like Sabrina's, you can read about Eric Gibson here. Be sure to listen to The Difference Makers podcast and read our blog to learn more about us and the exciting world of security.