At PalAmerican, we want to make the world a safer and friendlier place and to do that, we go above and beyond as one of the top leading providers of security services. It is our champion corporate culture, promotion-from-within philosophy, and industry-leading training, that makes us an industry disrupter.
The PalAmerican Difference
We truly value exceptional people; that's why we call our team The PalAmerican Family. We are all about making a difference in our communities and people's lives through our people-first approach, accountability, strong customer-savvy relationships, and powerful engagement with the public. We believe in instilling a sense of pride and professionalism in our security professionals by rewarding their outstanding actions and heroic work.
This is a very simple yet powerful asset. We are convinced that the best way to create a strong team is through employee development and career ownership. Recognizing that everyone is unique allows us to personalize our training programs and mentorships to help security professionals grow personally and professionally, taking their careers to the next level.
"The key to success related to promotion from within is not just to promote a person into a new leadership role, but to provide the mentoring and guidance to make them succeed. We take a real interest in not only selecting and promoting our people, but in coming along beside them, supporting them, and helping them succeed in that role." – Jason Begin, President of PalAmerican Security.
Career Advancement and Growth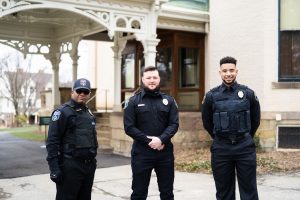 PalAmerican is committed to offering the best employment and career development opportunities in the security industry. We fully support employees who want to evolve within the company or have a desire to transition into other public safety-related careers. Our developmental programs have proven PalAmerican to be an ideal steppingstone to secure employment in Law Enforcement, Paramedics, Psychiatric Nurses, Social Workers, Peace Officers, and more. While all industries have a growth trajectory, the security industry has an incredibly steep rate of growth that can quickly reward those who are open to learning and willing to work hard. It can be more than just a steppingstone, it is a world of opportunity, fast growth, and endless rewarding career paths.
The company has countless examples of Security Officers moving up the ranks to become Payroll Specialists, I.T. Administrators, Billing Specialists, HR generalists, Marketing, Communications Specialists, and so on. Our employees know that they have a future in the company and can move up the ladder with their interest and determination.
"I started on October 5, 2021, as a Security Officer. I put in a lot of hours and always tried to go the extra mile for the overall benefit of the operation. An opportunity presented itself when my Client Service Manager became the acting Site Manager at the site. Shortly after, he promoted me to Shift Supervisor and then to Site Manager in early January 2022. This promotion took me three months." -  Jonathan from Florida, MI.
"Joshua Gordon came to PalAmerican Security in 2019 and quickly rose to Shift Supervisor in 2021 where he honed his skillset and understanding of healthcare security under his Site Leader. During that time, he received several recognitions and most recently, a PalAmerican award for his direct resolution of an event during his shift. He was recently promoted to Site Supervisor in April 2022. This promotion took him six months. Joshua was a solid choice, and he is becoming a great leader for his facility and PalAmerican Security." – Joshua's Team Leader from Colorado Springs, CO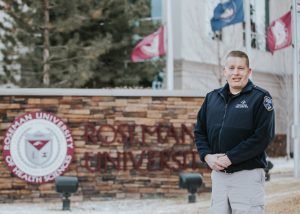 We take great pride in teaching others who may not have had previous experience in security to know how to help others, care for themselves, and create a safe environment. Our company-paid training goes beyond current industry standards, ensuring that Security Officers are ready to perform with the tools and confidence they need to succeed in their field. Security Officers can take advantage of specialized training courses for their specific site as well as sharpen their skills, knowledge, and abilities to meet a career goal.
Champion Culture / DEI
A company's culture influences results from top to bottom. PalAmerican Security's culture has been repeatedly recognized by our employees and clients alike. The commitment to create and maintain an environment where everyone feels included and where success is recognized is one of our main differentiators. We believe diversity, equity, and inclusion (DEI) are vital to creating and maintaining a successful workplace where everyone can thrive personally and professionally.
We love to see our employees rising through the ranks. The PalAmerican Family keeps bursting with growth, talent, and commitment that reinforces our values as well as our goals, making us a unique workplace at the forefront of the security industry. 
If you are interested in starting a meaningful career in security and making a difference, check out our careers page. The sky is the limit with PalAmerican Security!