"If you don't use it, you'll lose it".
-Jason Magallanes, National Training and Development Manager
When it comes to first aid, keeping up on your skills and new information is crucial. If you aren't performing CPR daily or assisting someone who's having a stroke (which most of us aren't), the training can quickly and easily be forgotten. But that means when it is time to step in during an emergency, what will you remember?
We want to help keep first aid and lifesaving skills at the top of your mind, so we have created an eight-part mini-series that will appear once a month to do just that. Our past topics have been emergency scene management, severe bleeding, broken bones, CPR , mental health, heart attack & stroke, and choking. Our final topic is how to use an AED.
What is an AED (Automated External Defibrillator)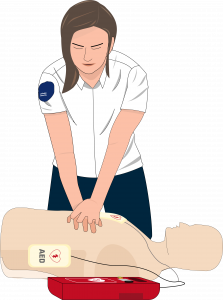 Knowing your CPR  skills is always a priority when it comes to responding to a person who is unresponsive or not breathing. But if you are in a public place, such as a mall, there is a good chance an AED (Automated External Defibrillator) will be available to use. If that's the case, it's recommended to use one overdoing manual CPR.
An AED doesn't perform compressions or apply breaths to the person, but it does help monitor their heart rhythm and inform you (the first aider) if an electric shock is needed. The good news is an AED is very easy to use, all you have to do is listen to the voice commands and follow the instructions. As mentioned, AEDs are outfitted in most public areas, such as offices, schools, airports, malls, community centers, rinks, etc., so there is usually one available when a first aider is responding to an event.
The Response
After responding to the person in need and determining that CPR is needed, ask a bystander to locate an AED while you start compressions. The chances of bringing an unconscious person back from resuscitation depend on many factors:
How did they become unconscious?
Was it an external factor like blunt force trauma, electrocution, suffocation, or substance overdose?
Does the person already have an underlying health condition, like heart disease, a pacemaker, or already had several heart attacks before?
The third step in the Chain of Survival (above) has the possibility of helping the heart resume to a normal rhythm. With cardiac arrest, the heart has started to beat
erratically. The AED is designed to read this erratic rhythm and then shock the heart to help resume its normal rhythm. The AED will tell you what to do, so once it's turned on, listen, and follow the directions. The process usually looks like this:
Open or turn on the AED
Follow the voice prompts
Bare the chest
Dry or shave the chest as needed
Apply the pads as indicated
The AED will analyze
Press "Shock" if prompted
Continue CPR if prompted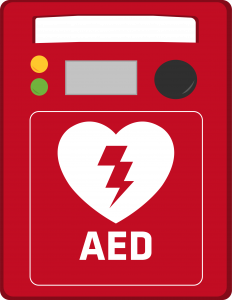 The AED won't over shock the person and the first aider cannot choose when to deliver a shock. It's important not to touch the body when the shock is being delivered. The equipment is designed to identify if and when their heart needs to be shocked into normal rhythm.  If the AED becomes inoperative, the first aider should transition into manual CPR until medical help arrives.
What's important is that we help if we can and do the best we can with the skills we have been trained with. Can we be unsuccessful? Yes, there is that chance that our efforts won't help, but trying instead of not responding gives them a higher chance of survival.
For more Safety Tips in the security industry, make sure to read these helpful articles!
If you are interested in starting a meaningful career in security and making a difference in your community, check out our careers page. There are endless opportunities to create your own career path with our Promotion-from-within Philosophy. See how far your career goes with The PalAmerican Family!
Be sure to listen to The Difference Makers podcast and read our blog to learn more about us and the exciting world of security.