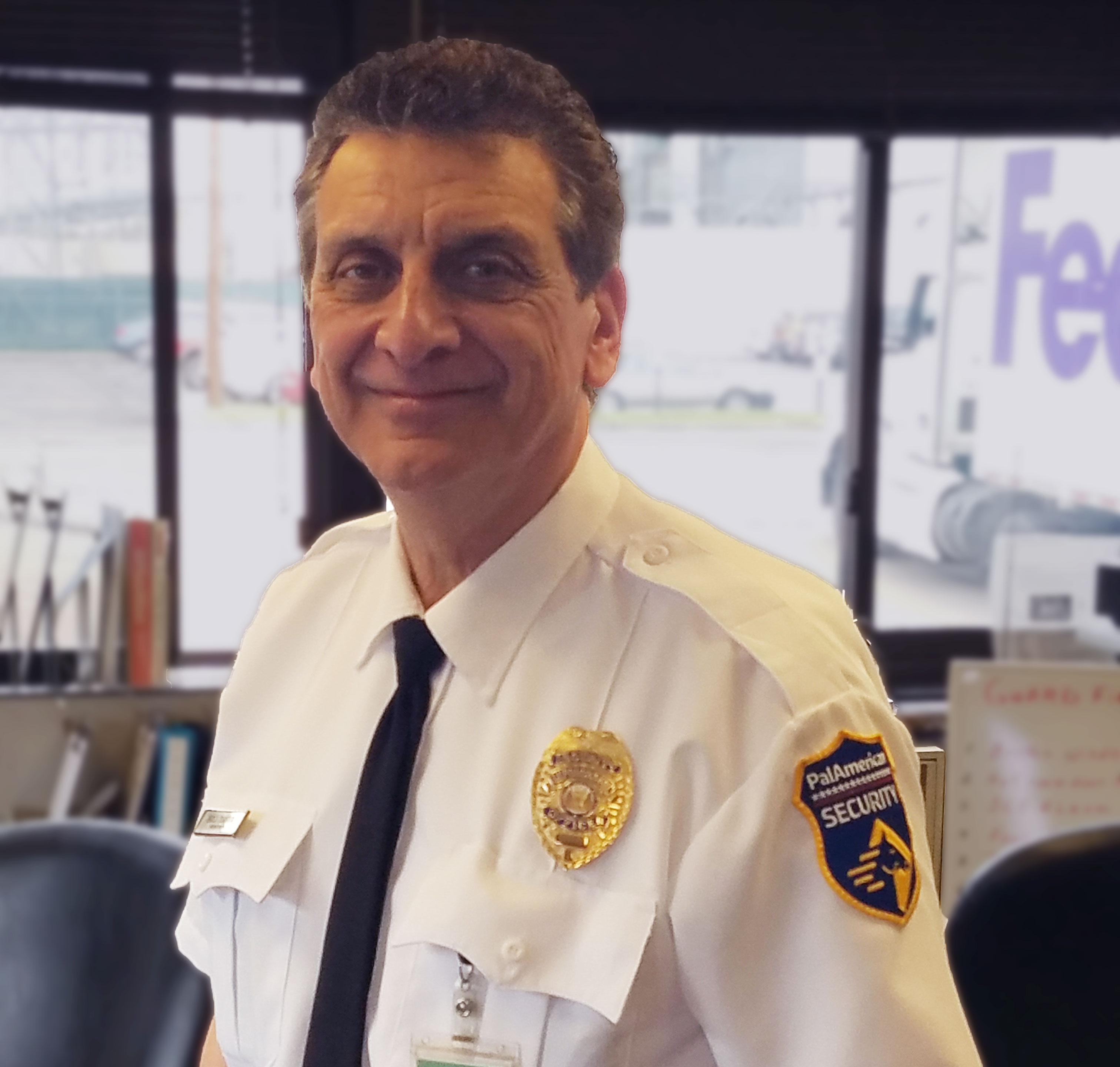 Interview with Bill Daher, Site Supervisor
Bill Daher is a Site Supervisor in Springdale, Pennsylvania. With 30 years of security industry experience, Bill has the distinction of being PalAmerican's very first Security Officer.
With thirty years' experience, you've devoted a significant amount of time to the security industry. What initially led you to your first job in security?
I had a very successful thirteen years in grocery management, which at the time I thought would be the career I eventually retired from. As with everything, things change. The store that I managed was awarded as store of the year for three straight years. We won twenty national merchandising contests. Everything was great and in place. In the mid-1980's, the owners decided they wanted the employees to begin to take pay cuts, threatening store closures. The threat to employees and the greed I saw really affected me, and I didn't want to be a part of it, as I was a manager. Although I had a very good salary, I decided that I would leave that career and look for another. My dad was the Supervisor of the Guards at the site that I am at now. I told my Dad that I could work with him and his team for only a couple of weeks before I decided on two offers I'd received – either a Manager Consulting position, or a position with a National Insurance Company traveling from state to state performing audits. I worked the two weeks and didn't want to leave. Now 31 years later, I honestly remember those times as if they were only yesterday.
You were the first PalAmerican Security Officer to join our team and put on the very first uniform. What did that mean to you?
I met Ashley Cooper (CEO), Don MacAlister (COO) and Jason Begin (VP) about two years ago when they were introduced to me from the owners of Criterion Security, and I was very impressed with their approach. They didn't just simply sit and talk; they asked me questions and really listened. They were very polite and seemed to have so much respect. They impressed me immediately. It was obvious that they truly cared for their company. I believe that to care for yourself and your company, you have to learn to care for others. I really felt great joining the team, and still do.
How would you explain PalAmerican in just a few words?
PalAmerican is a company that is growing but, impressively, still cares for their employees and wants them to grow within the company. With the training programs, the monthly incentives, and the referral program, this is absolutely THE company to work with if you want a career in security.
In your opinion, what are the responsibilities of a PalAmerican Security Officer?
A PalAmerican Officer's responsibility is to understand that this is not just a job like any other job. It is a quality position. An Officer represents themselves and also PalAmerican. I always tell potential Officers that if they want to succeed, they have to be the very best. The Officer has to control access to the site, to lend their senses to the job, and be the best service person they can be.
What do you believe is a misconception that the public may have of Security Officers?
People think that if you cannot find a job anywhere else, then you can become a Security Officer; that anyone can do it. You basically read a newspaper, eat donuts and listen to your favorite radio station. They think this is a low paying job with no career advancement. While we obviously know this isn't the case, these are some of the misconceptions I've encountered. I believe, however, that it is our job to correct these misconceptions. If people think it is a "low type" of job, then it is our duty to change this impression. Officers need to raise their own opinions of this industry and demonstrate by example before they can expect others to change their opinions. I believe PalAmerican Officers are working to change these stereotypes by providing amazing customer service and truly helping people every day.
What advice would you give someone aspiring to join the security industry?
This is a great job and career if one approaches it with the right mindset. Don't give excuses, and always do your best. Never sell yourself short of what you are truly capable of. While this is a great job, everything is what you make of it, so always work to be the best.