Recognition is one of PalAmerican's core values. We constantly look for ways to instill a sense of pride and professionalism in our Officers. We want to empower them by showcasing their commitment to the job, highlighting the difference they make in people's lives, and how they positively impact their communities. That is why we call it the PalAmerican Difference. One of the many ways to do this is through our monthly recognition program, which allows peers and leadership to nominate Officers for Performance of the Month, Performer of the Month, and Unsung Hero awards.
We take pride in our Officers' outstanding efforts every day to show what the PalAmerican Difference truly is. This article focuses on an exemplary profile that aligns with the PalAmerican values and shows what going above and beyond means.
Officer Spotlight: Isaac Stiles
Isaac has been a member of the PalAmerican Family since June 2021. Ever since he joined, he has been consistent with his services. He is fully dedicated to his work and known to be a dependable and reliable teammate among his colleagues.
What Makes Him Stand Out?
Isaac joined as a part-time Security Officer. Within no time, he proved that he could overcome demanding situations in a spirited and resilient way and was promoted to Security Manager that same year.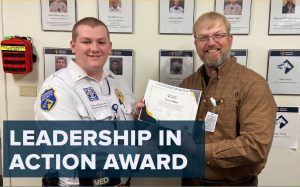 Isaac is definitely a people person. He is always emphasizing culture and teamwork with his internal security team and the team alike. Isaac loves to strike up conversations with people at his facility and keep a welcoming environment. He is a skilled communicator and has positively impacted the lives of many in need of help or in difficult situations.
His Example
Isaac is currently working as a Site Manager at Longmont United Hospital in Colorado. During his time at the site, he has always extended his availability to cover shifts and stay late if unforeseen situations come up. He is always punctual and has never once expressed unwillingness to be available when required. Proven to be an excellent team player and an outstanding Security Officer who has strong morals, takes pride in his work, and aspires to give his best every day.
With an excellent sense of responsibility, he understands the vital role that security training plays in executing his job. In the time that he has been with PalAmerican, he has been continuously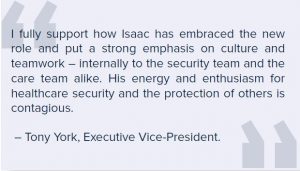 working towards upgrading himself. Isaac is an active member of the International Association for Healthcare Security and Safety (IAHSS) and has successfully completed all three levels of IAHSS Progressive certification. He was recently elected at the IAHSS Chapter Chair.
World-Class Training
This outstanding Officer has expressed how proud he is to be associated with PalAmerican and has immense admiration for the training programs that the company provides and how they have helped him unleash his full potential. He feels they are very complete. They cover a broad range of programs and techniques that allow Officers to handle all kinds of emergency situations. He believes that the training programs have made him more confident of his abilities. As a result, he now knows how to handle physical situations and manage at-risk situations on-site. "The unique part of the training is that apart from physical training and other essentials, Officers are also trained to recognize signs of mental health concerns and are taught to approach such situations with extreme caution and empathy," Isaac says.
Thank you for being part of the PalAmerican Difference, Isaac!