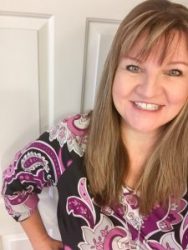 There are powerful stories of individuals who began their careers as Security Officers and worked there way up to becoming Directors.
On the other hand, there are those who have spent countless years mastering a completely different field. These highly skilled individuals are able to implement their expertise into other industries, such as security.
One of these experts is Jennifer Ray.
Director of Business Development
In October of 2019, Jennifer was announced as the new Director of Business Development for PalAmerican Security's Northwestern US region. Prior to joining the PalAmerican Family, Jennifer's career path encompasses over 20 years of experience in corporate business development and relationship building.
Jennifer has become successful in both business-to-business account acquisition and account management. She has worked for a variety of industries and vertical markets, and has led Corporate Business Development roles for Comcast, Office Deport, Paychex, and ABM Industries. What led her to accepting a position with PalAmerican, was her passion for aligning clients with value added services.
I love representing a corporate service that  can be positioned to our clients as a value-added partnership. I also drew towards PalAmerican because of the success of Paladin Security in Canada.

- Jennifer Ray, Director of Business Development
A Career at PalAmerican Security
At PalAmerican, Jennifer has the opportunity to enhance the growth of the company in both the Northwestern and Pacific Northwest market. This is done by leveraging existing strong relationships with both corporate clients and property managers across the state of Washington.
In her role, Jennifer is excited to expand upon her existing relationships by attending networking events through the Building Owners and Management Association (BOMA). She is also passionate about supporting committees, either by being on the board or by participating in trade shows and sponsored golf tournaments. It is in these environments that Jennifer has the chance to:
Develop relationships
Discover business opportunities
Receive referrals from property managers and business owners for PalAmerican Security
Advice for Working in the Security Industry
Over the course of her 20-year work experience, Jennifer has come to understand how change is constantly happening, whether you choose to recognize it or not. According to Jennifer, having a positive outlook on change allows you to understand how important it is for growth and success in your career.
The best advice I can share is always prepare yourself to learn and grow in your career. This is the best way to achieve success!

- Jennifer Ray, Director of Business Development
"Treating others as you would want them to treat you", is another mantra Jennifer strongly values. She believes this mentality will allow you to develop genuine relationships with others and earn their trust. In return, this may lead to new business opportunities and referrals.
Jennifer also believes you never know if the janitor is the business owner, or if the receptionist is a family member to the CEO. In other words, every person and role matter, and each are important to the success of the business.
The Importance of Security
New to the industry, Jennifer drew towards security because she recognizes it as a crucial service for businesses and communities. She also notices how security is complementary to many other services that organizations rely on day to day. This ranges from hospitals and government facilities, to universities and commercial buildings. Jennifer's ultimate goal is to inform others of PalAmerican Security, as well as position it as a corporate partner and positive necessity for all clients.
Jennifer fits right in at our PalAmerican Seattle branch, as she is also a huge fan of the Seattle Seahawks! You will often find her sporting Seahawk gear and making the effort to form strong relationships with her clients and PalAmerican Family.